"You turns yourself responsible for everything you did."

This article, Celia Mordred, is the sole property of Mr. D, and cannot be mentioned, used or even edited, without asking him first, except the collaboration articles. Are you able to hold that?
This page, Celia Mordred, is currently under construction. Please bear with the changes made by the author.
"Sometimes...you have to surpress that hatred inside yourself with love and peace!"
— Celia to Damon.
Celia Mordred

Kanji/Kana
セリアモルドレッド
Rōmaji
Seria Morudoreddo
Alias
Sky Sorceress「天空の巫女 Tenkū no Miko」
Biographical Information
Age
23
Race
Human
Biological Description
Gender
Female
Height
5'8" ft.
Weight
150 lbs.
Eye Color
Blue
Hair Color
Blue
Blood Type
AB+
Status
Rank
Relationships
Occupation
Mercenary
Holy Knight (Platinum, Former)
Affiliation
Mordred Family
Kingdom of Londor (Former)
Expendables (Former)
Abilities
Celestia
Enchantment
Equipment
Sacred Treasure
Symbol of Beast
"The Calm Breeze."
Celia Mordred「セリアモルドレッド Seria Morudoreddo」
Appearance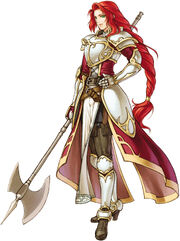 Personality
History
Plot
Abilities & Equipment
Physical Prowess
Weapons
Ways of Combat
Abilities
Celestia「を Seresutia」
Enchantment
Enchantment「魔法転移 (エンチャーントメント) Mahou Teni (Enchāntomento), lit. Magic Transference」:
Power Level
Relationships
Relationships
Damon D. Draco
Gwyn Nevarine
Percival Vasquez
Maria Mordred
Battles & Events
Quote
Trivia
She is based off of Juvia Lockser from the Fairy Tail Series.
In Arthurian Legend, Celia or Caelia was the Queen and ruler to the Fairy Land.
According to the author:

Celia's special skill is cooking.
Hobby is reading books.
Daily routine is checking on others.
Favorite Food is Soup.
Charm Point is her Sweet smile.
Handedness is Right-Handed.
Birthday is April 4th.
Complex is her hair color.
Person she respects the most is Damon D. Draco.
Person she doesn't make to make an enemy is Ector.